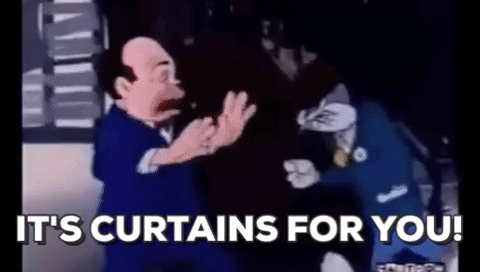 Respond to this challenge, by either by using the prompt word curtains, or going with the above picture, or by means of the song 'Green Grass and High Tides', or by going with another song by the Outlaws, or anything else that you think fits.  Because the word grass was in the title of this song, and a lot of the lyrics are vague, some people thought it was about smoking marijuana.  Founding member of Outlaws Hughie Thomasson who was their guitarist and singer wrote this song.  The song got its name from the first best of compilation album by the Rolling Stones which was released in 1966 and titled Big Hits (High Tide and Green Grass) and this song title was developed by switching around the order of the words.  The song was released on the Outlaws 1975 eponymous debut studio album and 'Green Grass & High Tides' is considered by many to be one of the greatest guitar songs, but sadly it didn't make the charts, although it was played on FM radio.  They did have a hit single on this album titled 'There Goes Another Love Song', which reached #34 on the Billboard Hot 100.
The Outlaws originally formed in 1966 and played in local bar scene in Tampa, Florida under various names.  They were known as The Rogues before they became The Four Letter Words and Frank Guidry brought the name Outlaws with him when he joined in 1972, as he had been in another group that had that name.  They had a lot of early personnel changes, but when they recorded this album, they were a five-man band composed of Hughie Thomasson who played lead guitar and sang, Billy Jones who also played lead guitar and sang, Frank O'Keefe on bass guitar, Drummer Monte Yoho and Henry Paul on electric and acoustic guitar, and vocals.  Their fans called them "The Guitar Army" because of their triple-guitar rock attack of Thomasson, Paul and Jones.  The Outlaws' earliest gigs around Tampa were with The Allman Brothers, the Marshall Tucker Band, the Charlie Daniels Band and Lynyrd Skynyrd.  They helped to define Southern Rock for generations of fans, and they were one of the first acts signed by Clive Davis who did this at the urging of Ronnie Van Zant.
Hughie Thomasson said that he wrote this song while the group was in Saint Augustine, Florida.  The band went to a cookout on the beach, and everybody forgot to bring their guitars, so while he was standing by the ocean, this breeze blew in and the words kept coming to him.  Thomasson said that this song is about all the rock stars he liked that had died and he envisioned that they came back and were playing a show just for him.  Like Jimi Hendrix, Janis Joplin and Jim Morrison and eventually more of course.  The song was written to honor the rock and roll luminaries, the great rock and roll legends.  In the lyrics the singer is treated as a king, as kings and queens (the deceased rock stars) bow and play for his pleasure.  It is sort of a collage of words that really don't have all that much to do with anything, but they fit together and sounded right.  It contains these magic lyrical moments that will forever remain mysterious and will never be fully comprehended because the hidden meaning is unclear.
In a place you only dream of
Where your soul is always free
Silver stages, golden curtains
Filled my head, plain as can be
As a rainbow grew around the sun
All my stars of love who died